Thunder Tanks is a tank combat game similiar to war jetz, but with tanks.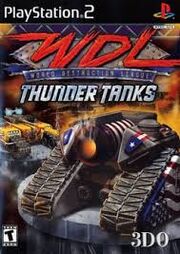 The Player can choose from 9 different tanks, each with there own unique weapons and special abitities, to wage war in a battle against other tanks in an arena. Besides the standard deathmatch mode, there is Tournament, Capture the Flag, and frenzy modes as well as a family mode in which up to 4 people can play.
WDL Thunder Tanks is another death sport sponsored by the World Destruction League, a post apocalyptic tv sports network. The same one featured in Warjetz, it is hosted by Chuck "Mad dog" Clemens, and Kate Maxwell, the later of which also hosts Warjetz, alongside Jimmy "Helcatz" Jackson.